Dr. Pierre Fey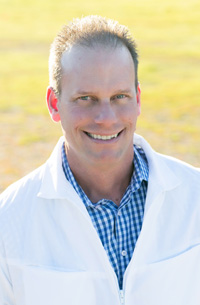 Read my CV here
Dr. Fey is a highly experienced and caring doctor who is committed to providing high quality comprehensive care.
Dr. Pierre Fey approaches each patient as an individual with compassion as they move toward pain relief, healing and optimum health.
Dr. Fey graduated in 1996 from Life West College of Chiropractic in San Lorenzo, CA.  Besides spinal care, Dr. Fey also specializes in extremity conditions such as shoulder and hip bursitis, knee tendonitis, Plantar Fasciitis, Morton's Neuromas, heel and foot pain, elbow and wrist conditions and carpal tunnel syndrome, among others.  He has three children and is very comfortable working with child ailments.
Dr. Fey initially worked with the San Diego Sports Medicine Center where he treated many professional athletes from the San Diego Chargers professional football team and the San Diego Padres professional baseball team.  Dr. Fey moved to San Francisco in 1992 where he worked with the San Francisco 49ers professional football team and the San Francisco Giants professional baseball team with his mentor Dr. Nick Athens. Dr. Fey has many celebrity patients who he treats with the utmost discretion in the office and at their homes.
Recently Dr. Fey has also become certified as a Veterinarian Orthopedic Manipulation for small animals and equines. For the past year he has worked with Ventura County Sheriffs K-9 department adjusting the K-9 dogs and their handlers.
Dr. Fey has been in private practice since 1996 and he has been featured in local publications.
His motto is to always give the patient the best service and treatment, alleviating all pain while teaching his patients ways to improve their level of health care though exercise and spinal maintenance.
Education:
San Diego State University, Bachelor of Science in Athletic Medicine
Life Chiropractic College West, Doctor of Chiropractic
Veterinarian Orthopedic Manipulation Technique Certified Alameda, CA
Licensure:
Doctor of Chiropractic
National Board of Chiropractic Examiners
California Board of Chiropractic Examiners
Licensed X-Ray Technician
Veterinarian Orthopedic Manipulation Technique Certified in small animals and equine manipulations
Memberships and Associations:
California Chiropractic Association
Academy of Anti-Aging Medicine
Philanthropy
Ventura County Auxiliary Children's Services- 13 years of exemplary donations of toys and school supplies collected in exchange for Chiropractic services.
Ventura County Manna Food Bank – 13 years of food donations collected in exchange for Chiropractic services
Watch Dr. Fey's mentor at work with Joe Montana